Congratulations!  You graduated, You passed your tests, you got your license, you aced the interview and you are looking at your very first classroom!
Let me start by saying this.  YOU are amazing.  You showed your professors, your state, and your new principal you knew your stuff with nothing but ambition and a drive for success.  And guess what? You will be just as successful with your new class with those same things.
But wait!  Maybe you are thinking: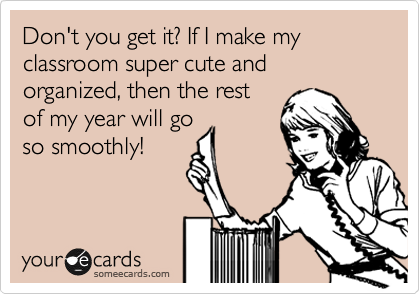 Nope.  That is not what makes a successful year.  Things like organization, management, and keeping YOUR own life are things that will make you successful.
Keep in mind, most of the classrooms you see on Pinterest and Instagram are from VETERAN teachers not new.
My first classroom (I looked, I do not have any photos…sad) was so bare and so naked it was almost painful.  I also started though on October 10th, 6 weeks into school.  I had no time to plan or make things. I started out with a hand drawn poster with our "class rules" that we all signed.  I had a student make some graffiti letters that said something about great work, we slapped that up and students were allowed to pin up work they were proud of.   We hung up Anchor charts around the room.  That was all I did for "DECOR" and you know what?  My students did great, we had 15% increase in state test scores, they are all happy, and successful in high-school now.
That summer I reflected.  I thought about what would make my classroom better.  I felt my behavior management was decent and I needed to focus on transition times. I added table numbers, and made each table a color.  I bought matching table caddies for each table color.  I made a number-line and was really excited to put it up.  That was it.  My 1st full year of teaching, second year teaching was also successful.
That summer I reflected again.  This next year I wanted to organize my classroom more, so students knew where everything was and felt comfortable getting the resource on their own time. Also going into my third year I was a little more financially stable.  I bought a rolling cart, containers for stations, spent a little more on borders and "decor"  I still just went with a color theme of the things I had already accumulated.
MY point is here, I'd like to say I am better than a good teacher.   Yes I have my bad days.  Yes I feel like a failure sometimes, and yes I certainly have room to grow still, but I am successful at my job, my students are happy, and successful and I do not have a "pinterest worthy" classroom. Let's be real.  I would rather spend my money on vacations and clothes than bean bags and baskets.  In the end when you are getting reviewed for your performance, your classroom decor has little or nothing to do with how "successful" you are as a teacher.
So here it comes.  TIPS for how to get ready for your first BTS!  I am going to organize it by topic so to speak!  I enlisted in some of my blogger and insta friends too!  Check out their links!
Meet the Teacher Night
CLASSROOM SET-UP
Managing Paperwork
Managing Behaviors
Managing Your Personal Life
There was a ton of other really great information given to me that I could sift through.  I want to make sure these teachers get credit too.  I posted a request for tips on Instagram and got an OVERWHELMING amount of New Teacher Support.
Otherwise know that there are veteran teachers out there to help you!  I am one of them.  IF you ever need anything do not feel ashamed to ask.  email me at lessonswithcoffee@gmail.com
Cheers to a great FIRST back to school!
Jameson